Allure, Hoodoo Apprentice #2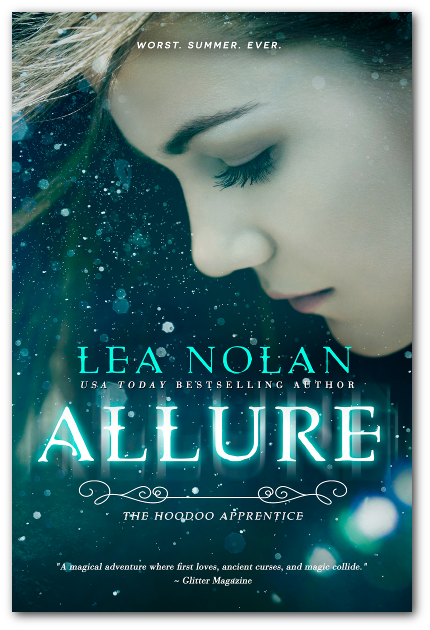 Worst. Summer. Ever.
Emma Guthrie races to learn the hoodoo magic needed to break The Beaumont Curse before her marked boyfriend Cooper's sixteenth birthday. But deep in the South Carolina Lowcountry, dark, mysterious forces encroach, conspiring to separate Emma and Cooper forever. When Cooper starts to change, turning cold and indifferent, Emma discovers that both his heart and body are marked for possession by competing but equally powerful adversaries.
Desperate to save him, Emma and her twin brother, Jack, risk their lives to uncover the source of the black magic that has allured Cooper and holds him in its grip. Faced with the horror of a soul-eating boohag, Emma and Jack must fight to resist its fiendish power to free Cooper long enough to join their strengths and face it together, before it destroys them all.
Amazon | Barnes & Noble | Apple Books
Google Play | Kobo | Indie Bound | Goodreads
---
Reviews
TOP PICK 4 1/2 stars! "Nolan's writing ability will amaze readers. She doesn't let you catch your breath during the entire captivating storyline…Expect to laugh, cry, bite your nails and shiver – it's that good. Thank goodness a third book is coming!" ~RT Magazine
"Magic, romance, suspense, and mystery in equal measure make this a must-read for fans of Stephenie Meyer's "Twilight" books (Little, Brown)."~Jennifer Prince, Buncombe County Public Libraries, NC, School Library Journal
"A magical adventure where first loves, ancient curses, and magic collide." ~ Glitter Magazine
"Lea Nolan made sure to top Conjure when it came to drama, magic, and even death. I had a hard time putting this book down because after at the end of each chapter, I was left hanging. Lea Nolan did a spectacular job on the sequel and I look forward to the next book." ~Book Lovin Mamas
"After reading Conjure I couldn't imagine a book that would be more exciting as this one but Lea Nolan did it again! I can't wait to read more." ~ Diary of a Book Addict
"Allure is just as stunning as Conjure…Can't wait to see what comes next!!"~Books Make Me Happy Reviews
"The villains are perfectly evil, the ending is freakin awesome and heartbreaking…This is fantastic and so worth picking up and reading. Can't wait to see what happens next in this magical world Nolan has written." ~ Books Live Forever
"I really enjoyed Lea's writing, she did an amazing job bringing the characters to life and building up the world they live in. She also did a wonderful job explaining everything in the book to make it realistic and easy to relate to. Allure ends on a cliffhanger, and I can't wait to see what happens next!" ~ Reading Rainblog
"A great Middle Grade crossover novel…but with it's enticing mystery, magic, and sweet romance, older teens and adults will find it just as appealing. Perfect for those looking for magic, curses, and icky monsters in their read." ~ Book Swoon
"A fabulous addition to a great series! Allure has it all: murder, mystery and well of course romance." ~ The Reading Cave
"I can't wait for the rest of the world to get their hands on Allure so they can love it like I do!" ~ The Unconventional Librarian
"Nolan amps it up with the hoodoo lore, the mystery, the creep factor and the friendship between all three characters." ~ My Guilty Obsession
"This is definitely a great second book and it's something that grabs your attention more, making you want more from these characters in the next book." ~ Step Into Fiction
"Allure was as thrilling, as full of adventure, dark magic and pure love as Conjure was…Packed up with a slight edge of humor, lots of thrilling adventures, realistic characters who grow with each step they take, Allure is a read that would keep you up at night." ~ YA Story Teller
"It is a story which is full of magic, action, curses and is a total page turner that will surprise you and will shock you as well." ~ I'm a Reader
---
Watch the Trailer
Check out Conjure and Illusion, the other books in the Hoodoo Apprentice series!