Conjure, Hoodoo Apprentice #1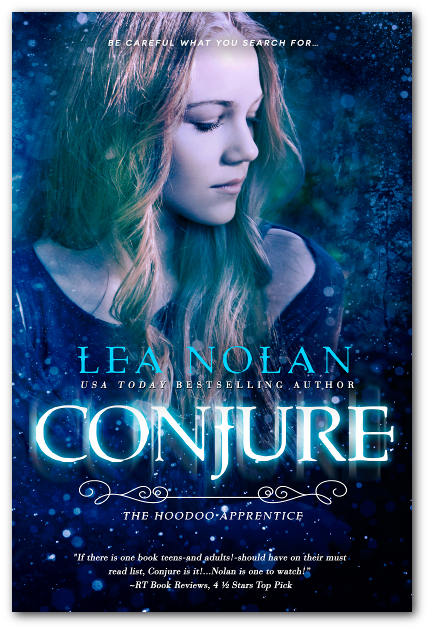 Be careful what you search for…
Emma Guthrie expects this summer to be like any other in the South Carolina Lowcountry–hot and steamy with plenty of beach time alongside her best friend and secret crush, Cooper Beaumont, and Emma's ever-present twin brother, Jack. But then a mysterious eighteenth-century message in a bottle surfaces, revealing a hidden pirate bounty. Lured by the adventure, the trio discovers the treasure and unwittingly unleashes an ancient Gullah curse that attacks Jack with the wicked flesh-eating Creep and promises to steal Cooper's soul on his approaching sixteenth birthday.
But when a strange girl appears bent on revenge, demon dogs become a threat, and Jack turns into a walking skeleton, Emma has no choice but to learn hoodoo magic to undo the hex, all before summer—and her friends–are lost forever.
Amazon | Barnes & Noble | Apple Books
Google Play | Kobo | Indie Bound | Goodreads
---
Reviews
"Richly filled with exquisite imagery, a compelling story, and a strong, smart heroine, Conjure will keep you up way past your bedtime." ~ Trinity Faegen, author of The Mephisto Covenant series
"A true adventure, complete with pirates, romance, a flesh-eating curse, and ancient magic. I couldn't put it down!" ~ Inara Scott, author of The Talents (Delcroix Academy) series
"If there is one book teens–and adults!–should have on their must read list, Conjure is it! The first Hoodoo Apprentice tale, Nolan's debut, has a boatload of characters readers will immediately connect with. Fans of young love and adventure will hurry to the end of each chapter, in anticipation of what will happen next. Unfolding at an easy pace, this tale is magical and spellbinding. Nolan is one to watch!" ~RT Book Reviews, 4 ½ Stars Top Pick
"Conjure is a sweet, adventure-packed romp for young teen readers…There are pirates, lost treasure, curses, and ancient curses, chases, narrow escapes, and secret letters galore." ~ New York Journal of Books
"This is an unexpected read: exciting, dangerous, adventurous – everything we want from a good book. Yet Nolan puts that creative twist on all the elements, making Conjure something special. Conjure is recommended, 4 out of 5 stars." ~Teen Librarian's Toolbox
"Equal parts fun and creepy, with enough paranormal elements to delight the horror lover in me, CONJURE puts a fresh spin on YA paranormal."~ Amber Keller, Fresh Fiction
"Lea Nolan has written an exciting semi-horror adventure which will shed light on the eighteenth century for young adult readers and paints a picture of a lovely part of the world." ~ Clare O'Beara, Fresh Fiction
"This story is absolutely AMAZING! Emma is a strong, beautiful main character and I enjoyed getting to see her change from a shy, artistic girl into a confident young woman whose love is so powerful that she is willing to do anything to keep those she cares about safe. She is definitely on the same level with Katniss Everdeen or Hermione Granger." Books Make Me Happy Reviews
"Ms. Nolan has created a fresh new setting for a book that has me wanting more and anxious for the next book. Her characters feel real, the elements of the paranormal exciting and believable. Conjure really works for me as an enjoyable read and I will anxiously await book #2 in this series." ~ My Reading Room
"Conjure is one of the most entertaining young adult novels I've read in a long time. It is a light, fun, and sometimes spooky read filled with sympathetic characters, intriguing hoodoo magic, and turns and twists that will keep you turning pages until the very satisfying ending–one that is open and hints at what will happen in book 2." ~ The Dark Phantom also posted on Mayra's Secret Bookcase
"Talk about a fun read! Even without the curse and hoodoo the trio of Emma, Jack, and Cooper would have been fun to read on some other kind of adventure. There was a distinct realism to them that made them jump off the page. But throw in the curse, and mystery, and magic and BAM!… what an adventure. Parents looking for books for younger readers on the YA scale that aren't too racy or colorful in language should definitely check it out."
~ RhiReading
"Conjure is one of those stories that you just enjoy reading. It's enchanting and entertaining with history weaving its way through the curses. The cover is beautiful and this book is fun, adventure, and magic all rolled up into one! Almost like a Pirates of the Caribbean for teens! Conjure is a mystical story wrapped up with revenge, sacrifice, and romance. It'll show you how tight some sibling bonds really are and how far sometimes you have to push yourself for the people you love. Definitely a fun read and definitely worth a pick up! 4 of 5 Stars" ~ Shortie Says
"this book was spellbinding and I started to wonder if maybe I was under one of Emma's spells. The characters in this book were well written and developed really well so I really felt like I got to know them all. They felt like people I would really see in my hometown living life. The author gets major props from me for all the time and research I am sure she put into this book to make it really authentic. She also created such a great world with a great mystery at the heart of it all. I highly recommend this one to readers that want a really cool mystery read with paranormal aspects and some light hearted romance thrown in. 5 of 5 Stars" ~ Doctor's Notes
"It was a magical adventure with a dash of southern flavor. It's also one of those books that I would feel comfortable recommending to my middle school students. ..The adventure in this one is action packed. The curses descend in the beginning chapters and then it's a thrill ride all the way to the end. I loved that this book could appeal to both female and male readers. There is a little bit of romance, but it's realistic and chaste. It's not anything that would make me blush or would cause my male students to roll their eyes. 4 of 5 Birdies 'Love it" Review" ~ Reading Lark
---
Watch the Trailer
---
Extras
Click here to read a deleted scene. ***SPOILER ALERT!!! This scene contains plot secrets so if you haven't read CONJURE yet, maybe you should hold off. Okay, you've been warned….
---
Check out Allure and Illusion, the other books in the Hoodoo Apprentice series!