Dream Casting The Hoodoo Apprentice Series
Now that Illusion is out in the world, the Hoodoo Apprentice series is complete! I've lived with these characters in my head for a long time, ever since I started writing the series back in the summer of 2010. To me, they're real and have their own personalities, likes, dislikes, and quirks. To bring them to life for you, too, I've decided to share my Dream Cast along with a few tidbits about each of the main characters.
The Good Guys
Emma Guthrie, played by Emily Osment, circa her teen years
Emma Guthrie is the heroine of the Hoodoo Apprentice series. Emma starts off a shy, artistic girl who is thrown in to a desperate battle with evil forces to save herself and those she loves the most. Over the course of the trilogy, she meets every challenge head on, though not without making plenty of mistakes, grows stronger, and finds her own voice. She's tough and plucky, dedicated and determined, and always has her heart in the right place. And she's got the gift of being able to perform hoodoo magic, lift hexes, and battle supernatural enemies. I dream cast Emily Osment as Emma because I'd seen her in Spy Kids and Hannah Montana and she always struck me as spunky, smart and pretty, but not the type of girl who'd be obsessed with her looks or popularity. Plus, she looked exactly as I'd imaged Emma in my head.
Cooper Beaumont, played by Brando Eaton, circa Dexter
Cooper Beaumont is the hero of the series and he's pretty much perfect. Gorgeous, broad shouldered, muscle-bound, and pure of heart, he's steadfast and supportive and always there for Emma, even when she's too stubborn to accept his help. An orphan and the sole heir of a plantation and building corporation, he's wealthy but never, ever flaunts it. Instead he's determined to right the greedy wrongs of his ancestors who have overdeveloped the South Carolina Lowcountry and used their influence in dark and sinister ways. He's also best friends and almost brothers with Emma's twin brother, Jack, and when required will take a bullet (or face down a demonic creature) to save Jack's sorry butt. Have I mentioned Cooper loves Emma? Yup, with his whole perfect heart. Oh, and he smells like pine needles and the sea breeze and his eyes switch from blue to green depending on what he's wearing. In short, he's awesome. And Brando Eaton would make the perfect, awesome Cooper.
Jack Guthrie
, played by Beau Mirchoff, circa Heartland
Jack is Emma's twin brother and Cooper's trusty side. He's funny and sarcastic, a jock and a history buff, and he never thinks twice before heading into danger. He's also taken lots of hits for the team over the course of the series, falling victim to curses, escaping vile monsters and fighting for his life. No matter what, he's always there for Cooper and Emma, especially when his twin sense kicks in, letting him know she's in trouble. Sadly, Jack's also been unlucky in love, but his fortunes may change in Illusion, though I won't say more lest I spoil things. 😉 Beau Mirchoff is the closest cutie I can find to fit my image of Jack but there's one important detail he's missing: Jack's skin is more olive-toned and darker than Beau's.
Miss Cordelia "Delia" Whittaker, played by Cicely Tyson, circa the present
Miss Delia is Emma's 97-year old, tough, ornery, and loving hoodoo root worker  mentor. As Jack says, she's a hoodoo ninja warrior. And although she's old, she's the most powerful conjurer in the South Carolina Lowcountry. Not only can she work any spell and defeat any bad guy, but she also knows the difference between right and wrong, and the importance of using your power for good. There's no one more perfect to play her than Cicely Tyson who's always played strong, determined, interesting women. I'd have dream cast her in this role even if I'd never seen her in the film, Because of Winn Dixie, but the fact that her character worked magic and had a bottle tree just like Miss Delia didn't hurt.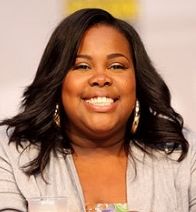 Zora Duval, played by Amber Patrick Riley, circa the Glee years
Zora Duval is a new character introduced in Illusion as Emma's new best friend. Zora is the best kind of best friend for Emma: kind, sensitive, supportive, she doesn't ask questions, and can be counted on to get rid of a dead body if necessary. Finding an actress to play Zora was easy. I just though of Mercedes in Glee, the talented, funny, vulnerable, and great friend to some many in that cast.
The Bad Guys
All good series need bad guys and the Hoodoo Apprentice is no exception. Illusion unites three villains who are dedicated to destroying Emma and those she loves: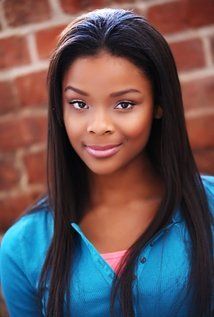 Taneea Branson, played by Aijona Alexus, circa The Rickey Smiley Show
Taneea was sent to live on St. Helena Island to live with her great-granddaughter, Miss Delia because she can't behave back at home in Chicago. She's an expert car thief, has blackmailed teachers, and has gotten kicked out of every school her plastic surgeon mother has enrolled her in. She recognizes Miss Delia's magic and wants to learn hoodoo but her great-gran' refuses, sensing Taneea will abuse the power. Angry at both Miss Delia and Emma who she believes is working against her, she turns to the mysterious Claude Corbeau who is all too eager to teach her gambling charms and other spells while also working to put Miss Delia in jail. Aijona has the perfect combination of cleverness, daring, and mischievousness necessary to play the conniving Taneea.
Claude Corbeau, played by Don Cheadle
This mysterious villain is obsessed with pinning a museum theft on Miss Delia and having her locked up for making healing potions. He's got nefarious plans for Emma, Cooper, and Jack, too, and may or may not have allied with Emma's spectral nemesis, Sabina. Emma works hard to reveal Claude's secrets in Illusion, even when it means risking her life–and the lives of Cooper and Jack–to do so. Don Cheadle would make a fantastic Claude Corbeau because he's got a winning combination of charisma and guile, plus he looks fantastic in a suit. I'm sure he'd look equally good in Claude's signature blue-lensed sunglasses.
Photo courtesy of Austin History Center (PICB 19453B)
Sabina, the 300-year old ghost
Sabina is the rage-filled, revenge-obsessed spirit who's spent the last three centuries making the Beaumont family pay for their slave-holding ancestors' crimes. Before she was enslaved and brought to the Americas against her will, Sabina was a queen in her homeland, and possessed ancient magical power. After her granddaughter, Magnolia was murdered, Sabina used her power to cast two curses to destroy the Beaumonts and the nasty band of pirates who were responsible for Magnolia's death. Now that Emma has broken the hexes and spared Cooper, the last surviving Beaumont from a fate worse than death, Sabina's set her sights on Emma, promising to kill her, too, but not before crushing everyone Emma holds in her heart. To be honest, I've never found the perfect actress to dream cast as Sabina. The photo here was taken in the 19th century, more than a hundred years after Sabina died, but this enslaved woman's image comes close to the picture I have of Sabina in my head, save for a few differences. Sabina's face is scarified, an African practice of scaring skin in decorative designs, and her hair is bright white.
I hope you've enjoyed meeting these characters up close and getting a peek at what they look like inside my head.
Things aren't always as they appear…

New school. Cross-country move. Broken heart. If only these were Emma Guthrie's worst problems. Instead, she must battle a trio of enemies–human and spectral–who may or may not have joined forces against her and everyone she loves. All while pretending to be over Cooper Beaumont, her ex-boyfriend and true love, to shield him from her arch-nemesis's revenge.

Worse, when the fight escalates, Emma is tempted to use black magic, which will endanger her soul. As her enemies close in, join forces, and fight with new and dark magic she's never seen before, Emma must harness the power within her to fulfill an ancient prophecy, defeat a centuries-old evil, save her family, and reclaim the only boy she's ever loved.
And here are the gorgeous new covers for the previous books in the series, Conjure and Allure. Aren't they a perfect match to Illusion?
And now for the giveaway. One lucky reader will win their choice of a digital copy of one of the books in the Hoodoo Apprentice series, either Conjure, Allure, or Illusion. To enter click the Rafflecopter link below. Best of luck to those who enter.
Thanks so much for having me! I hope you enjoyed meeting the stars of Illusion and the rest of The Hoodoo Apprentice series!
~Lea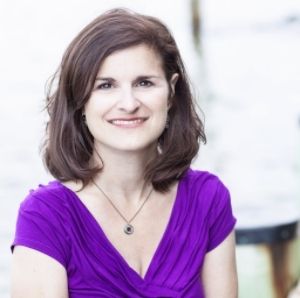 Lea Nolan is a USA Today bestselling author of Contemporary Romance and YA. Her books for young adults feature bright heroines, crazy-hot heroes, diabolical plot twists, plus a dose of magic, a draft of romance, and a sprinkle of history. She also pens smart, witty contemporary stories for adults filled with head-swooning, heart-throbbing, sweep-you-off your feet romance. Born and raised on Long Island, New York, she loves the water far too much to live inland. With her heroically supportive husband and three clever children, she resides in Maryland where she scarfs down crab cakes whenever she gets the chance. Learn more at her website, or follow her on Facebook, Twitter, Instagram or Goodreads