I'm so excited for the upcoming release of WANT ME ALWAYS on Tuesday, April 21, 2020, I've got a sneak peek excerpt and a super special giveaway just for readers!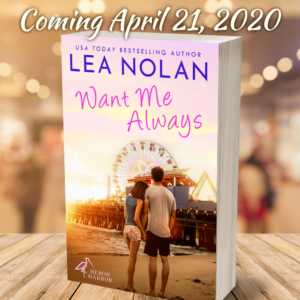 First, here's the excerpt:
"How did you know about me wanting to make partner?" Wren asked as they climbed the porch steps of her family's beach house.

Smith laughed. "You're not the only Donovan sister to eat at my restaurant. Raven keeps me up to date on you, too."

"I'm surprised she mentions me."

"Only when I ask. I like hearing about what you're up to."

Wren's head tilted. "Really? After all this time?"

He met her gaze. "Always."

After blooming into a slow smile, she said. "That's nice."

"It's the truth. You stopped coming to the island but I didn't stop caring about you. We were good friends…once." Smith reached for one of her hands.

She nodded. "We were. Friends." Wren looked like she might say something else, but then looked down at their entwined fingers. "I didn't know what to expect when I went to the restaurant tonight." She lifted her lashes to gaze at him again. "But somehow I knew you'd make everything okay." His heart thrummed. "I'm glad. I'd do anything to put a smile on your face."

Her lids tightened just slightly as she peered at him as if with new eyes. "You're the same but different. In a good way. Is that weird to say?"

He grinned as he shook his head. "No. So are you."

Wren looked surprised. "How so?"

Drawing closer, his voice softened. "I always knew you were smart and would be a huge success. And you were always the prettiest girl on the island in summer. But now, damn woman, you're more beautiful than I ever imagined."

Wren's cheeks flushed pink and her gaze turned down to the floorboards. "You're just saying that."

Gently, Smith cupped her jaw and bored into her dazzling green eyes. "I never say anything I don't mean."

She nodded, her pupils dilating. "Oh-kay."

"The fact that you don't know how gorgeous you are tells me you've never been with a man who truly appreciates you. And that's a damn shame." Smith's fingers slid to the back of her neck and threaded through her hair. "A smart man would understand your value and worship you. Have you ever been worshiped, Wren?"

Wren swallowed hard. "No."

"Would you like to know how it feels?"

"Yes," she whispered.

Without another word his mouth closed on hers. He kissed her softly at first, savoring the exquisite taste and feel of her flesh. His tongue darted across her lower lip, then dipped into her mouth. A tiny whimper escaped her throat and she answered by stroking his tongue with hers. Turning her head slightly, she opened her mouth to grant him better access. Accepting her invitation, he plunged deeper, nibbling on her bottom lip then sucking it into his mouth. Wren's knees wobbled. She wrapped her arms around his firm torso, pulling herself against him. Fierce need swelled in him, sending heat straight to his groin as a low growl rumbled in his chest. They kissed for what seemed like hours, discovering each other as raindrops spattered the porch roof. Finally, breathless and filled with so much want he could scream,

Smith pulled away.

"Wow," she said as her chest heaved.

"Yeah. Wow."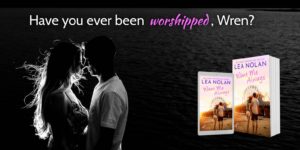 I'll confess that's one of my favorite lines from the book! Definitely worth a teaser graphic all it's own. If you want to read more about Wren and Smith's journey, you can pre-order WANT ME ALWAYS here:
Kindle | Barnes and Noble | Apple Books | Kobo
And now for the giveaway. To enter to win one of five (5) $10 Amazon gift cards, just enter below! Good luck!