USA Today Bestseller! Just $0.99 for a limited time.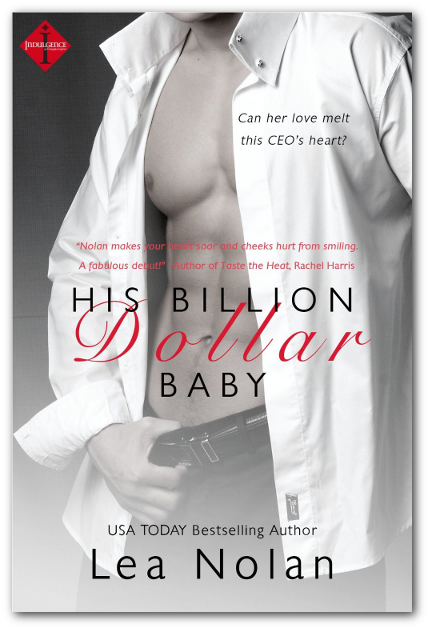 About the Book: 
Burned by love and grieving over his brother's death, sexy billionaire CEO Carter Anderson wants nothing more than to protect his family. So when beautiful and unassuming physical therapist Gwen Radley shows up at the funeral, pregnant with his brother's baby, Carter's certain she wants an interest in the Anderson empire—and both his suspicion and attraction grow when circumstances force Gwen to move into his family's mansion.
An orphan, Gwen's never wanted anything more than a family, and she finds in the Andersons a place she and her baby might belong. When Gwen's therapy expertise leads to long hours of intense, late-night collaboration on a lucrative project, the attraction between her and Carter leads to a night of white-hot passion. But Carter's distrust remains, leading them both to wonder if he will ever embrace his brother's baby—or the love that's blooming between them.

Advance Praise:
"A fun, fresh, witty romance full of warmth and surprises. Nolan makes your heart soar and cheeks hurt from smiling. A fabulous debut!" ~Rachel Harris, author of Taste the Heat
"A wonderful, romantic read filled with emotion that tugs at your heart and leaves you wanting more." ~ Robin Bielman, author of Kissing the Maid of Honor
"To catch a gold digger, he'll risk his heart. To keep from being labeled a gold digger, she'll fight an attraction she longs to pursue. This sexy, sweet story is perfect for a rainy day or an afternoon on the beach!" ~ Susan Meier, author of Her Summer with the Marine
"Tugs at the heartstrings from page one and never stops – heartfelt and tender!" ~ Christi Barth, author of the Aisle Bound series
Excerpt:
When they pulled into River View's circular driveway, a twinge of sadness pricked her heart. The night was over. In a few minutes, Gwen would be upstairs in her room, her dress on its hanger and her make up cleansed. Then she'd slip into her bed wearing her striped flannel pajamas. Anticlimactic, but all fairy tales had to end sometime, didn't they?
Carter came around to her side and opened her door. Extending his hand, he offered, "Let me help you out."
"Thanks." Gathering her purse and the stuffed bear in one arm, she grasped his fingers with her free hand, grateful for the assistance. As soon as she got to her feet, the purse slipped once again, but this time he was ready and snatched it midway to the ground.
"Butterfingers," he said with a smile as he stepped close to place it in her hand.
Chuckling, she looked up into his navy blue eyes. "Occupational hazard. I never realized how much the pregnancy would give me the dropsies."
Their gazes met. The air crackled with energy. Shivers rushed over Gwen's skin as warmth swelled in her core. Memories of their kiss on the porch flooded back, kindling her desire. She wanted his lips on her again, and this time she wanted it to last.
"I don't want the night to end," Carter whispered as he inched closer and laced his fingers in hers.
She swallowed hard, hoping to God that meant what she thought it did. "It doesn't have to."
As if an answer to her prayers, he leaned down and pressed his lips to hers.
Gwen tossed her purse and the bear into the still open car then reached to grasp Carter's broad shoulders and pulled herself to him. His strong arms encircled her back, drawing her even closer. His lips were soft and tender. He leaned in, deepening the kiss as his tongue darted into her mouth.
Sucking her bottom lip, his hands slid up her back to her neck where he threaded his fingers through her tendrils. Tilting her head to allow him deeper access, she was sure her legs would give out from under her.
Please, God, don't let him end this. She wanted this, needed it—and him—so much more than she ever imagined.
His lips slipped away from hers but it wasn't to break the kiss. Instead, he trailed tiny nibbles up her jaw and down her neck, stopping in that exquisite spot behind her ear that threatened to shatter her into a billion pieces. Heat swelled, filling her with want. As if reading her mind, he pressed himself close, allowing her to feel the evidence of his desire.
"I want you," he whispered.
"Take me," she managed as he made his way back to her mouth and flicked his tongue against hers.
In one smooth move, he scooped her up in his arms. She squealed as he kicked the car door shut and carried her across the gravel drive toward the east wing's exterior exit. Shifting her slightly, he wiggled the door handle and lifted her over the threshold. He grinned and the fiery need glinting in his eyes sent a surge of heat through her. He wanted her. Badly. Maybe as much as she wanted him. Soon they'd be together, skin against skin, bodies melding, desires granted.
Awesome blog tour and giveaway to celebrate! 
May 19 ~ deea reads ~ Promo 
May 19 ~ Bitches Be Writin' ~ Promo 
May 19 ~ Toot's Book Reviews ~ Promo 
May 20 ~ Read-Love-Blog ~ Promo 
May 20 ~ WTF Are You Reading ~ Review
May 21 ~ Sleep Deprived Book Lovers ~ Review
May 21 ~ Vilma Atkins (Facebook) ~ Review
May 22 ~ Ramblings from this Chick ~ Guest blog
May 22 ~ She Hearts Books ~ Review
May 23 ~ BlueDragonEbooksReview ~ Promo 
May 23 ~ Sweet Spot Book Blog ~ Guest blog
May 26 ~ In Shadows ~ Spotlight
May 26 ~ Viviana, Enchantress of Books ~ Guest blog
May 27 ~ Book Reviews by Lexi ~ Review
May 27 ~ Manga Maniac Cafe ~ Interview
May 28 ~ Romantic Reads and Such ~ Guest blog
May 28 ~ Becky on Books ~ Review
May 29 ~ Ramblings of a Book Lunatic ~ Review
May 29 ~ Kate George – Author ~ Guest blog
May 30 ~ Talking Books Blog ~ Interview
May 30 ~ BlackHippieChick's Reviews & Advice ~ Review
May 30 ~ Harlie's Books ~ Review
Enter the giveaway for your chance to win some fantastic prizes. Good luck and happy reading!