Today's the day! WANT ME ALWAYS is live! Woo hoo! I'm so excited not only for this book, but for the beginning of the Heron Harbor series.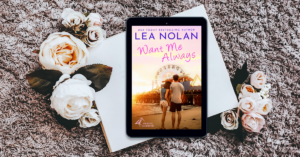 I can't wait for readers to meet Smith and Wren and follow their journey:
Her mind says no…

Wren Donovan's done with love. Betrayed and humiliated by her ex-fiancé, she retreats to her family's beach house on Heron Harbor Island to lick her wounds and gorge herself on ice cream, spray cheese, and a box of glazed donuts. Wren vows to devote herself to her law career and swears off men forever, but she isn't prepared for what being reunited with her oldest friend makes her feel…

His heart says yes, please…

Smith Connors can't believe his eyes when Wren walks into his restaurant. He's loved her since they were kids, when summertime found them inseparable best friends. As a boy, he'd never felt good enough for Wren. But now he's a rising-star chef with a thriving business who knows what he wants—which means he's not letting beautiful, brilliant Wren get away again.

Smith determines to show Wren how good they could be together, and soon neither of them can resist the heat growing between them. He'd do anything to earn her faith—and her heart, if only she could learn to trust again.
Kindle | Barnes and Noble | Apple Books | Kobo
To celebrate WANT ME ALWAYS' birthday, I've got a great giveaway! To enter to win one of five (5) $10 Amazon gift cards, just enter below! Good luck!