Welcome to the YA Scavenger Hunt! This bi-annual event was first organized by author Colleen Houck as a way to give readers a chance to gain access to exclusive bonus material from their favorite authors…and a chance to win some awesome prizes! At this hunt, you not only get access to exclusive content from each author, you also get a clue for the hunt. Add up the clues, and you can enter for our prize–one lucky winner will receive one book from each author on the hunt in my team! But play fast: this contest (and all the exclusive bonus material) will only be online for 72 hours!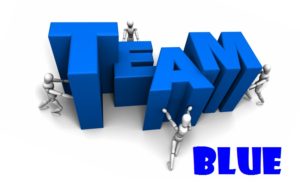 Go to the YA Scavenger Hunt page to find out all about the hunt. There are SIX contests going on simultaneously, and you can enter one or all! I am a part of the BLUE TEAM–but there is also a red team, a green team, a gold team, a pink team, and a purple team. Each give you a chance to win a whole different set of books!
If you'd like to find out more about the hunt, see links to all the authors participating, and see the full list of prizes up for grabs, go to the YA Scavenger Hunt page.
SCAVENGER HUNT PUZZLE 
Directions: Below, you'll notice that I've listed my favorite number. Collect the favorite numbers of all the authors on the BLUE TEAM and then add them up (don't worry, you can use a calculator!).
Entry Form: Once you've added up all the numbers, make sure you fill out the form here to officially qualify for the grand prize. Only entries that have the correct number will qualify.
Rules: Open internationally, anyone below the age of 18 should have a parent or guardian's permission to enter. To be eligible for the grand prize, you must submit the completed entry form by Sunday, April 8, at noon Pacific Time. Entries sent without the correct number or without contact information will not be considered.
EXCLUSIVE SCAVENGER HUNT POST
Today, I am hosting Emily Skrutskie for the YA Scavenger Hunt!
Emily Skrutskie is six feet tall. She was born in Massachusetts, raised in Virginia, and forged in the mountains above Boulder, Colorado. She holds a B.A. in Performing and Media Arts from Cornell University, where she studied an outrageous and demanding combination of film, computer science, and game design. She is the author of THE ABYSS SURROUNDS US, THE EDGE OF THE ABYSS, and the forthcoming HULLMETAL GIRLS.
Find out more about Emily Skrutskie by checking out her website!  You can also catch up with her on Goodreads | Facebook | Twitter. 
Emily's featured book is HULLMETAL GIRLS
Amazon | Barnes and Noble | Indie Bound | Goodreads
Aisha Un-Haad would do anything for her family. When her brother contracts a plague, she knows her janitor's salary isn't enough to fund his treatment. So she volunteers to become a Scela, a mechanically enhanced soldier sworn to protect and serve the governing body of the Fleet, the collective of starships they call home. If Aisha can survive the harrowing modifications and earn an elite place in the Scela ranks, she may be able to save her brother.

Key Tanaka awakens in a Scela body with only hazy memories of her life before. She knows she's from the privileged end of the Fleet, but she has no recollection of why she chose to give up a life of luxury to become a hulking cyborg soldier. If she can make it through the training, she might have a shot at recovering her missing past.

In a unit of new recruits vying for top placement, Aisha's and Key's paths collide, and the two must learn to work together–a tall order for girls from opposite ends of the Fleet. But a rebellion is stirring, pitting those who yearn for independence from the Fleet against a government struggling to maintain unity.

With violence brewing and dark secrets surfacing, Aisha and Key find themselves questioning their loyalties. They will have to put aside their differences, though, if they want to keep humanity from tearing itself apart.
 Emily's got some awesome bonus content to share, A Letter From The Desk Of Doctor Isaac Ikande
Dear Potential Scela Recruit,

First of all, I wish to extend my sincere thanks for your interest in becoming one of the Fleet's elite defenders. The decision to attempt this procedure is never an easy one to come to, and I deeply respect the bravery that has lead you to my care.

While all citizens of the Fleet are familiar with Scela, the process of transforming a human into an enhanced cyborg remains a mystery to most of the general population. The documents included in this datapacket will walk you through the process in much finer detail, but here in this letter, I hope to lay out the procedure in broader terms.

The first stage of the transformation is known as integration. Integration refers to the joining of the human mind with the exorig. The procedure starts with a physical fusing of the exorig's spine to the human's and a neural latching at the base of the brainstem. When the connection is made, the exorig's artificial consciousness will begin to intertwine with the subject's. The process is supervised by a pair of trained technicians, but it is driven almost entirely by the exorig—and by the subject's response. There is nothing I can say to sugarcoat this: most people do not survive this stage of the procedure, and there is little we can do to predict its success or prevent its failure.

Immediately after a successful integration, we begin the second stage of the transformation, known as conversion. During conversion, the subject's body is restructured to accommodate the power of a full Scela rig. Bones are lengthened to match our seven foot standard height, muscle enhancements are sewn in, and ports are installed throughout the body to support the framework of the full rig's armor. Unlike integration, conversion has a success rate near 100%, due to both the talent of our surgery team and the advances in our endoscopic processes that allow us to complete a full conversion in a single day.

The standard recovery time for these procedures is two weeks. For some, this can be a difficult process, and the success of a Scela conversion hinges on this critical period. Over the course of that time, my team and I will monitor the subject's adjustment to their new body and mind.

I must take a moment to be blunt—otherwise this letter becomes impossible to conclude. The odds are not in your favor, and the likelihood that I will ever meet you is slim. It's difficult for me to balance addressing you honestly and addressing you humanely, and the fact that my charges are towering cyborg warriors with machine-integrated minds doesn't help my bedside manner. All the same, I dearly hope to be at your bedside soon, coaching you through your first steps as Scela.

Best wishes for your integration and conversion.

Sincerely,

Dr. Isaac Ikande

Head of Medical

Starship Dread
CONTINUE THE HUNT
And don't forget to enter the contest for a chance to win a ton of books by me, Lea Nolan, and the rest of the BLUE TEAM authors! To enter, you need to know that my favorite number is NINE (9). Add up all the favorite numbers of the authors on the BLUE TEAM and you'll have all the secret code to enter for the grand prize!
To keep going on your quest for the hunt, you need to visit the awesome Jessica Brody at her website!
Before you go, you've got one last chance to win a copy of CONJURE, the first book in the Hoodoo Apprentice series!