Hi everyone! At long last, Illusion is here! And that means the Hoodoo Apprentice series is officially complete. It's been a long road and I couldn't be more proud of where Emma, Cooper and Jack's story winds up.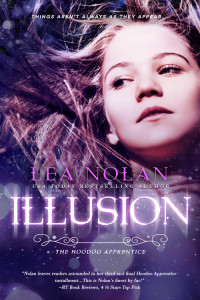 Things aren't always as they appear…

New school. Cross-country move. Broken heart. If only these were Emma Guthrie's worst problems. Instead, she must battle a trio of enemies–human and spectral–who may or may not have joined forces against her and everyone she loves. All while pretending to be over Cooper Beaumont, her ex-boyfriend and true love, to shield him from her arch-nemesis's revenge.

Worse, when the fight escalates, Emma is tempted to use black magic, which will endanger her soul. As her enemies close in, join forces, and fight with new and dark magic she's never seen before, Emma must harness the power within her to fulfill an ancient prophecy, defeat a centuries-old evil, save her family, and reclaim the only boy she's ever loved.
To celebrate Illusion's release we've got a great blog tour lined up and an amazing giveaway. Check it out:
Monday, October 5th:
RT Book Reviews – Exclusive Excerpt and Giveaway
Endless Reading Blog – Review

Gizmos Reviews – Review
Splashes Into Books – Review & Excerpt
Crystal's Chaotic Confessions – Review & Guest Post
Tuesday, October 6th:
Long and Short Reviews – Excerpt
Library of a Book Witch – Review & Guest Post
Happy tails and tales – Excerpt
My Guilty Obsession – Review
Wednesday, October 7th:
Books, Cats, and Caffeine – Review
GothicMoms – Interview with the Villain
Book Lovin' Mamas – Review & Interview
Goodnight Carolina – Review
Thursday, October 8th:
Doctor's Notes – Review
Lauren's Bookshelf – Review & Guest Post

Le&ndra Wallace – Interview: This or That
Cover to Cover Reviews – Review
Friday, October 9th:
Book Swoon – Review & Excerpt
Not So Literary – Review
Swoony Boys Podcast – Review & Interview
Young Adult Books Central – Book Trailer Premier and Exclusive Giveaway
Monday, October 12th:
Reading Teen – Excerpt and Exclusive Giveaway
Tuesday, October 13th:
I'm a Reader – Excerpt and Exclusive Giveaway
Wednesday, October 14th:
Everafter Romance – Illusion Playlist
Fiktshun – Excerpt and Exclusive Giveaway
Thursday, October 15th:
Jenuine Cupcakes – Excerpt and Exclusive Giveaway
Friday, October 16th:
Cuddlebuggery – Lea's Bad Blood Posse and Exclusive Giveaway
And here's the awesome official blog tour Grand Prize Giveaway: 
It includes a custom Hoodoo Apprentice tote with the series' gorgeous new covers, six authentic hoodoo spells handmade by the Lucky Mojo Curio Company, and a $25 Amazon gift card. There's also a second prize–a $15 Amazon gift card second place prize; and a third prize–a $10 Amazon gift card. Entering is easy, just click on the link below:
I also want to send a special thanks from the bottom of my heart to all the blogs who've participated in the Release Day Launch set up by InkSlinger PR.
Kindle and Me
I Heart YA Books
Barbara Book Reviews
Book Bite Reviews
Those Crazy Book Chicks
Teatime and Books
Renee Entress's Blog
Alpha Fangirl Book Blog
The Travelogue of a book addict – The Book Drealms
Rustys Reading
Ashley Book Blog
Romancing the Readers
Between fantasy and reality
Reading Between the Wines Book Club
The Dark Realm
Read-Love-Blog
Sarah Nicolas
Have Words Will Scribble
Booknista
Cupcakes and Vodka Book Blog
Becky on Books
Reese's Review
A Sky Full of Stars Blog
Evermore Books
bookstorefinds
Teatime and Books
Echoing Books
Southern Vixens Book Obsessions
Reading Bliss
Mama Reads Hazel Sleeps
Tanyas Book Nook
Renee Entress's Blog
What Is That Book About
Four Chicks Flipping Pages
Witchy Richey's Booktastic Reviews
Southern Vixens Obsessions
Literary Meanderings
Literary Misfit
Little Book Heaven
New Chicjs On The Blog
Oh the book feels
Happy tails and tales
Alpha Book Club
Books Can Take You There
RhiReading
Adventures in Writing
Lovely Reads
My YA NA Book Obaession
I Heart YA Books
Bittersweet Enchantment
pbc
Beneath The Covers Blog
Bookgatherer
deal sharing aunt
Barbara Book Review
Maari Loves Her Indies
Romance Schmomance
Read-Love-Blog
Cosying Up With Books
A Sky Full of Stars Blog
Books Need TLC
Kindle and Me
Thanks so much for your interest in this series and for sticking around while it wrapped up! Best of luck to all who enter the giveaways!
xo
~Lea